Czechoslovak Underground Journals
CORE Admin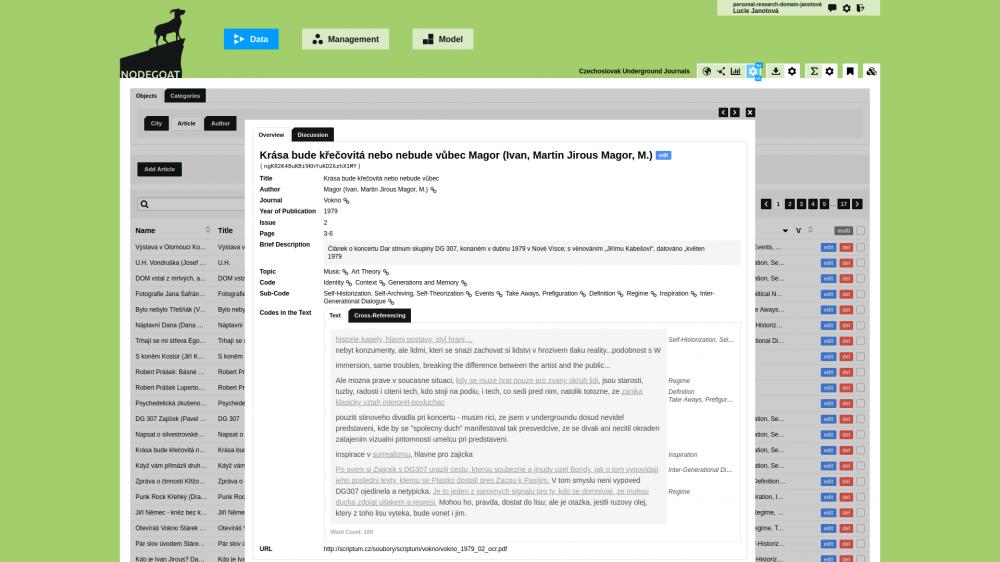 PhD project on self-produced journals covering non-conformist art activism in Socialist Czechoslovakia.
Lucie Janotová (Scuola Normale Superiore, Florence, Italy)

During my PhD research on non-conformist art activism in Socialist Czechoslovakia, I came across a number of self-produced journals that seemed to be the perfect source for studying the nature of the Czechoslovak underground movement. However, as a political sociologist by training, I had only little experience with treating large quantities of analogue material. Because of that, I applied to the Cultures of Dissent in Eastern Europe summer school, hoping to equip myself with some basic knowledge of digital humanities that could hopefully help me treat my data in a more structured way. There I got to know nodegoat, and it has honestly changed my research approach from top to bottom.

For me, nodegoat is not just a visualisations tool, but primarily a personal research space. Because of the flexibility of its features, I was able to customize it exactly to my own needs, while leaving any confusing or unnecessary categorizations behind. Concerning my PhD project, nodegoat enabled me to build from scratch my own dataset of journal articles, full of interactive external links, research notes, and contextual information concerning authorship, topical category, or publication time-scale. Having all this information stored in one place has made my research much more organized and also more complete, because nodegoat is capable of integrating much more information than a simple PDF document or a folder, while keeping all the data clean and organized. Navigating between different objects is also very simple, which allows me to quickly double-check any occurring cross-references or further investigate any possible interactions and relationships.

Because I am working with a grounded theory analysis, I was also happy to find out that I can annotate and analyse full text material directly in nodegoat, which is making my research process even easier. Through a combination of coding categories, in-text tags, and simple visualisations, I am able to perform open-source textual analyses comparable to those provided by licensed software like MAXQDA or Atlas.ti. Moreover, the possibility of conducting social interaction visualisations also helps me quickly explore relationships between categories and possible changes over time, and makes my work-in-progress readily available for public presentations. Finally, if a more complex analysis is needed, nodegoat allows me to export all of my data into a simple CSV or a Word-doc file, which I can further explore through other software. In sum, my whole PhD research is currently stored on this platform, and I am only just starting to fully understand how much potential there is in it.